Ndolena is a digital marketing agency that offers innovative info-graphic designs and manages highly advanced marketing campaigns  for world class companies. We are based in Johannesburg, South Africa.
Ndolena Design (pty) ltd. is a proud B-BBEE Level 1 (135%) contributor .
We assist our clients in achieving their marketing goals by developing a great image for their company, as well as reaching their target markets. This is done through branding and online growth.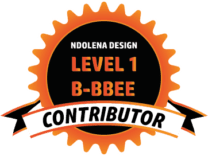 41 Sloane Street
Bryanston, Sandton
Johannesburg, 2191
Cell: 072 686 0058
Tel: 011 054 2546
The Ndolena Team is certified by Google Analytics, Google Digital Skills, as well as many coding languages certificates such as JavaScript, C++, HTML, CSS, Java and Python. This is combined with more than 5 years of experience in this business. Moreover, the reviews we get testify for us.