GENERAL DESIGN POLICY
Last updated June 01, 2022
1. AGREEMENT TO TERMS
These Terms of Use constitute a legally binding agreement made between you, whether personally or on behalf of an entity ("you") and Ndolena Design SA (pty) ltd, doing business as Ndolena Design ("Ndolena Design," "we," "us," or "our"), concerning your access to and use of the https://ndolena.co.za website as well as any other media form, media channel, mobile website or mobile application related, linked, or otherwise connected thereto (collectively, the "Site"). We are registered in South Africa and have our registered office at 41 Sloane Street, Bryanston, Sandton, Johannesburg, Gauteng 2191. You agree that by accessing the Site, you have read, understood, and agreed to be bound by all of these Terms of Use. IF YOU DO NOT AGREE WITH ALL OF THESE TERMS OF USE, THEN YOU ARE EXPRESSLY PROHIBITED FROM USING THE SITE AND YOU MUST DISCONTINUE USE IMMEDIATELY.
Supplemental terms and conditions or documents that may be posted on the Site from time to time are hereby expressly incorporated herein by reference. We reserve the right, in our sole discretion, to make changes or modifications to these Terms of Use at any time and for any reason. We will alert you about any changes by updating the "Last updated" date of these Terms of Use, and you waive any right to receive specific notice of each such change. Please ensure that you check the applicable Terms every time you use our Site so that you understand which Terms apply. You will be subject to, and will be deemed to have been made aware of and to have accepted, the changes in any revised Terms of Use by your continued use of the Site after the date such revised Terms of Use are posted.
The information provided on the Site is not intended for distribution to or use by any person or entity in any jurisdiction or country where such distribution or use would be contrary to law or regulation or which would subject us to any registration requirement within such jurisdiction or country. Accordingly, those persons who choose to access the Site from other locations do so on their own initiative and are solely responsible for compliance with local laws, if and to the extent local laws are applicable.
The Site is intended for users who are at least 18 years old. Persons under the age of 18 are not permitted to use or register for the Site.
2. CURRENCY
We trade in South African Rand.
3. PAYMENT METHOD
EFT is acceptable, cash deposits at ATM (you are responsible for the deposit fee, which is 1% (as at June 2022))
We do not accept cheques or cash payments
Partial or monthly installments are acceptable according to the agreement
We require a 60% deposit of the total balance before commencing work.
4. PAYMENT PERIOD
Once the project deadline is met, it is considered "FINAL AND COMPLETE". In this case, any remaining balances are due within 2 days after this deadline. If payment to complete the balance has not been made during this 2-day period, this will be considered as a breach of contract. Penalties will be applied for any late payment.
PLEASE NOTE: this deadline includes any delays that might have been caused by us and client.
5. THIRD PARTIES AND ASSETS
Ndolena Design is not responsible for liaising with third parties such as merchant service providers. It is entirely the client's responsibility. We only intervene during the installation or set-up process when it is directly related to our task description. Example: installing a payment gateway on a website. The client has the responsibility of creating an account with the gateway, and providing us with the login details we will need to install the gateway.
We reserve the right to declare the project "COMPLETE" even though the software/plugin, is not installed. This occurs when the client was not able to provide us with the necessary credentials to install the plugin or software. Ndolena Design is not responsible for editing any assets such as logos, images, or text unless specified in the brief or quotation.
PLEASE NOTE: We may need to share your information as well as project information with some third parties to assist us in completing the project. This includes: logistics companies, fabric suppliers, branding material suppliers, web hosting companies, as well as online communications companies. Should your project require third parties not listed in the list above, you will be informed of where exactly your information is being sent. Oftentimes we communicate with these companies to obtain a quotation or invoice for the service(s) your require.
6. CONTENT MANAGEMENT
It is not Ndolena Design's responsibility to create content for the client unless it was mentioned as one of the deliverables. "Content" includes text, images, symbols, or any graphic elements that we did not receive from the client initially, and that we have to create.
7. JOB TASK/DESCRIPTION
The brief provided by the client describes exactly the necessary deliverables, which means it is the client who determines what has to be done. The task description is confirmed and approved by both the client and us. This is further confirmed by the quotation, which values the above-mentioned deliverables.
If the client adds on more features or deliverables after their own approval, and the deposit payment, an additional fee will be applied to the invoice for these features and deliverables.
8. CANCELLATIONS AND REFUNDS
The client is allowed to make cancellations at any time. Please keep in mind that any payment made may not be refundable, depending on how much work was done on our end. Refunds may be offered at a portion of what was paid, if the project was not completed, but was started.
Processing refunds can take up to 14 working days.
We reserve the right to pull out of a project at any given time if there is: stalling from the client, harassment, or if the project becomes costly for us.
We reserve the right to refuse service to any one for any reason.
9. REVISIONS
A revision is any change applied after a design has been chosen and approved by the client. Only up to 3 revisions are allowed. Any revisions after the third one will have a fee applied to it.
10. PORTFOLIO AND CREDIT
Ndolena Design reserves the right to use this design on its website or anywhere else as its portfolio. Contact us if you find your design being used unlawfully by us, we will be happy to sort out the situation.
11. OWNERSHIP RIGHTS
Client continues to own any and all proprietary information it shares with Ndolena Design during the term of this Agreement for the purposes of the Agreement. The designer has no rights to this proprietary information and may not use it except to complete the Graphic Design services. Upon completion of the Agreement, Client will own the final Graphic Design Deliverables. While we will customize Client's Graphic Design Deliverables to Client's specifications, Client recognizes that Graphic Designs generally can have a common structure and basis. When we present drafts to you, they are still the property of Ndolena Design. You have the rights for only one draft/concept. All the rest are the property of Ndolena Design, unless stated otherwise in the agreement. For the Websites, customers are allowed to remove us as Administrators of their website.
12. COPYRIGHT FOR ARTWORK
Any custom made graphic design element made by us should be paid for before you can use it anywhere else.Promotions, discounts, sales
Ndolena Design reserves the right to stop any promotions, discounts, or sales at any given time, with or without a reason. These promotions, discounts, or sales vary according to each project and its terms.
13. CUSTOMISATION
Usually, the packages come with standard features, if you would like to make specific requests, fees may or may not apply according to the agreement. Please take note of this.
14. MARKETING / CONVERSIONS
Ndolena Design does not guarantee that you will make more sales due to our designs. This is based on multiple factors: reputation of the company, overall performance of the company and quality of service, the marketing strategy of the company (from selecting the right audience to improving your services and product quality).
15. RESOURCES USAGE
Fees may apply if the demand in the following resources increases, they are, but not limited to: CPU, Disk (storage), RAM, and Databases.
16. BRIEF DESCRIPTIONS
Ndolena Design will not be held responsible for any mistakes such as text or image descriptions provided by the client. The client acknowledges that the information that is provided is true and accurate. A modification fee will apply for any reprint, re-edit, redesign which contained mistakes after the client's approval.
17. DELIVERIES
Deliveries for small print runs of small branding items such as business cards, flyers, brochure, etc. are FREE of charge by default within Johannesburg (30km from our office). However, this depends on the agreement that will be made with you as well as the quantities of the items. 
-END-
Ndolena is a digital marketing agency that offers innovative info-graphic designs and manages highly advanced marketing campaigns  for world class companies. We are based in Johannesburg, South Africa.
Ndolena Design (pty) ltd. is a proud B-BBEE Level 1 (135%) contributor .
We assist our clients in achieving their marketing goals by developing a great image for their company, as well as reaching their target markets. This is done through branding and online growth.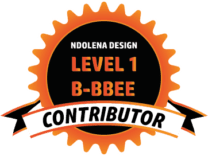 41 Sloane Street
Bryanston, Sandton
Johannesburg, 2191
Cell: 072 686 0058
Tel: 011 054 2546
The Ndolena Team is certified by Google Analytics, Google Digital Skills, as well as many coding languages certificates such as JavaScript, C++, HTML, CSS, Java and Python. This is combined with more than 5 years of experience in this business. Moreover, the reviews we get testify for us.