Branding
Branding is about developing the image of your company and ensuring that this image is always positive. With branding, we always have the market in mind because if the market rejects this brand, there is no business. Poor branding alone may lead to the decline of an organisation. That is why Ndolena Design is here to assist you in this matter.
Graphic and Print Design
Below are the design services we can offer. Please click on the one you wish to order. If you wish to order multiple services at once, you may use the contact form below to mention the services you need so that we can send you a quote.
Logo design
A symbol that should be easy to recognise regardless of the size or application. Creating such for your business is our specialty.
Packaging design
Selling or designing products? If you want to introduce this product let us do the right packaging design for you.
Letterhead design
The letterhead, just like e-mail signatures, makes your documents to recognise and professional. It is an effective marketing tool.
Business card design
A handshake accompanied with a business card is the networking method used for a long time, and it still works today.
Digital poster design
On social media, you need to post regularly to stay relevant. These posters will assist with customer retention.
Presentation design
The best way to retain viewers attention is to present elements they want to resonate with. We can create such presentations.
Company profile (brochure)
The company profile is a comprehensive introduction of your company to your potential clients as well as partners. Let's get you one!
E-mail signature design
This is the branding spice contained in professional e-mails. This makes your e-mails look more trustworthy and easy to remember.
Calendar
The calendar effectively reminds the viewer about your company for at least 12 months. That is what we call effective marketing.
Please note
If the service you are looking for is not listed above, please contact us so we can assist you.
Ndolena is a digital marketing agency that offers innovative info-graphic designs and manages highly advanced marketing campaigns  for world class companies. We are based in Johannesburg, South Africa.
Ndolena Design (pty) ltd. is a proud B-BBEE Level 1 (135%) contributor .
We assist our clients in achieving their marketing goals by developing a great image for their company, as well as reaching their target markets. This is done through branding and online growth.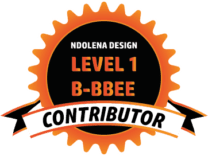 41 Sloane Street
Bryanston, Sandton
Johannesburg, 2191
Cell: 072 686 0058
Tel: 011 054 2546
The Ndolena Team is certified by Google Analytics, Google Digital Skills, as well as many coding languages certificates such as JavaScript, C++, HTML, CSS, Java and Python. This is combined with more than 5 years of experience in this business. Moreover, the reviews we get testify for us.