Company Profile
The company profile also  known as brochure is a comprehensive introduction of your company to your potential clients as well as partners. Let's get you one!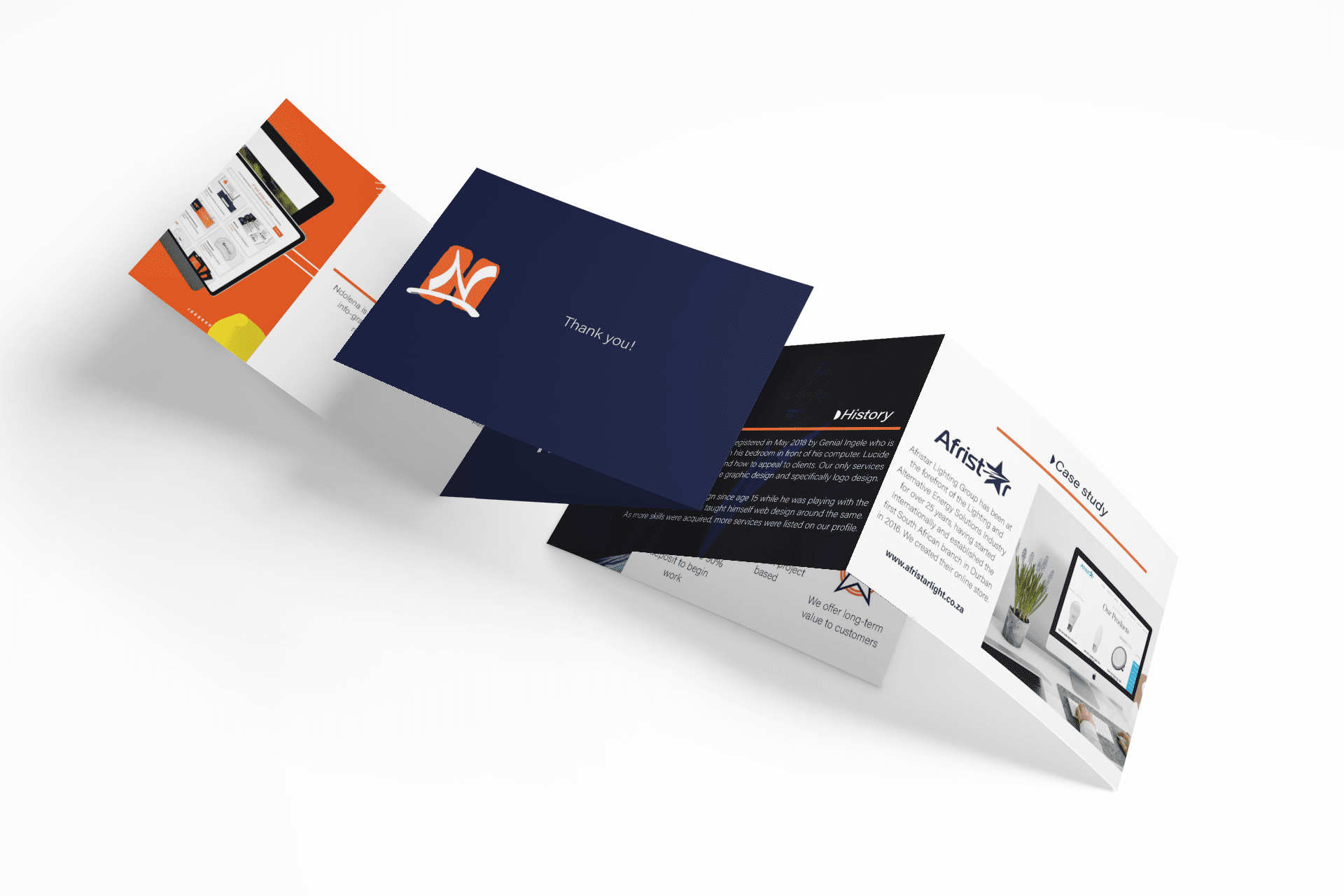 Service Description and FAQs
Please click on the relevant headings below to view the information you would like to know about this service.
Overview
This service consists of designing a company profile (brochure) that contains contact information you would like to share with others.
How does it work ?
We will first get the contact details you would like to share. It is up to you whether you would like to print or simply keep a digital copy in PDF.
Then we will send you some drafts to review. If you approve them we will work to improve them if necessary. If you do not approve, we will bring newer drafts. T's and C's apply.
If you would like to print the profile (brochure), please let us know the number of profiles to be printed (10, 20, 50, 100, etc.). Please note that printing is not included in the design, you will get the appropriate quotation for printing based on your needs.
Deliverables
Here is what you can expect after the project is finished:
3 drafts
Includes images
Digital Design only (in PDF)
Print-ready
Up to 7 pages
A fee applies for additional pages
A4 or A5
Vertical or Horizontal (Portrait or Landscape)
Features
The features included in this service are a digital PDF version of the company profile. You may request a QR code design too, this is free of charge.
Scope, Cost, Duration
Scope:
the scope of this service is designing a company profile (brochure).
Cost: Please note that all our company profile projects start from R2 000. (Only a 50% deposit is required to begin work).
Duration: it will take between 1-3 working days if there are no delays.
Responsibilities of parties involved
| | | |
| --- | --- | --- |
| Client | Ndolena Design | Third parties |
| Provide all the necessary accurate information about the project and the company.  | Provide guidance to clients about the service they will be provided. This includes answering the pertinent questions that current and potential clients might have. | May not misuse personal or project information for their own benefits. I.e. using the client's email to directly offer services to them. This is a breach in the partnership agreement and is punishable by law. |
Please click here: POLICIES to view more about our policies. This is simply an extract.
Recent work
Here are a few examples of previous logo designs. Please click on the arrows to see the rest.
Company Profile (Brochure)